Mini Converter HDMI to SDI 6G
November 22, 2017

Catchbox Mod
September 16, 2018
Blackmagic URSA Broadcast Camera
$5,309.00
The world's most affordable and flexible professional HD and Ultra HD broadcast camera for live production and studio programs, at the same price of a DSLR camera!
Blackmagic Design has announced Blackmagic URSA Broadcast, a new high end, professional broadcast camera designed for both studio programming and live production.
URSA Broadcast works with existing B4 broadcast HD lenses, can be used for both HD and Ultra HD production, features a 4K sensor, extended video dynamic range, traditional external controls and buttons, built in optical ND filters, dual CFast and dual SD card recorders, and much more.
URSA Broadcast is like two cameras in one, an incredible field camera for ENG and programming work, as well as a professional studio camera. The camera features traditional broadcast controls along with exceptional image quality, all in a compact design that is ideal for fast paced, fast turn around production work. The key is URSA Broadcast's new extended video mode which captures incredible looking video with accurate skin tones and vibrant colors. That means customers don't have to color correct images before going to air, making URSA Broadcast perfect for news, live sports, studio talk and game shows and more. URSA Broadcast lets customers shoot, edit and get stories on air faster than ever before.
"URSA Broadcast lets customers get the most out of their investment in cameras and lenses because it can be re-purposed and used on every type of project, whether it's out in the field or in the studio. It's like getting two cameras in one." said Grant Petty, CEO, Blackmagic Design. "URSA Broadcast is exciting because it makes high end broadcast camera technology available to everyone from AV and web producers all the way up to professional broadcasters, for the same price as a common DSLR!"
Standard Media and File Formats
Work faster by eliminating
expensive media and video transcodes!
URSA Broadcast is the first professional broadcast camera designed to work with standard media cards and file formats that are compatible with virtually all broadcast systems and editing software. URSA Broadcast records onto inexpensive standard SD cards, UHS-II cards and CFast cards, and records 1080i or 2160p video into standard .mov files, with .mxf to be added in future updates. URSA Broadcast records using DNx145, DNx220X or ProRes so the files will work with your existing broadcast systems and workflows.
You also get a B4 lens mount that works with your existing lenses, or you can swap it for optional EF, F and PL lens mounts so you can use standard photographic lenses. If you're building a complete broadcast camera chain, the optional URSA Viewfinder, URSA Studio Viewfinder and SMPTE fiber converters feature familiar controls and design, so they operate exactly as experienced camera operators expect. URSA Broadcast helps you get the most value out of your investment in cameras, lenses and accessories, which means you'll save time and money, so the camera virtually pays for itself!

Professional Blackmagic Accessories
Customize URSA Broadcast with viewfinders,
shoulder mounts, fiber extensions
and even alternative lens mounts
Whether you're working in the studio or out in the field, Blackmagic has created a complete line of accessories that are specifically designed to work perfectly with URSA Broadcast.
You can add the URSA Mini Shoulder Mount Kit, URSA Viewfinder and URSA Mini MicMount to configure the camera for ENG or programming work.
If you're working on a live production you can add the professional 7 inch URSA Studio Viewfinder and even a Blackmagic Camera Fiber Converter.
If you need to extend your recording time, simply mount an external SSD recorder.
Plus you can choose from a range of battery mount plates for attaching third party batteries.
You can even select between a range of different lens mounts!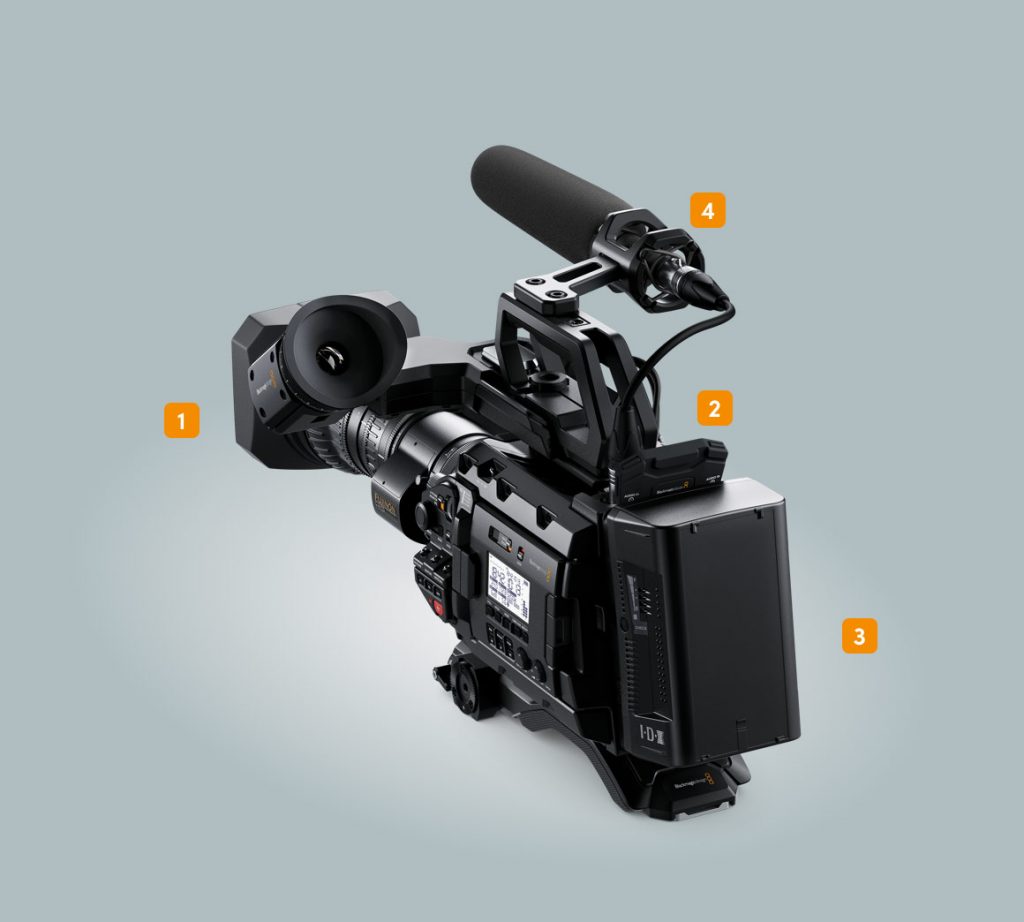 Live Broadcast
1. Blackmagic URSA Viewfinder
High resolution viewfinder for URSA range of cameras includes full HD OLED display and true glass optics for perfect focus.
2. Blackmagic Shoulder Mount Kit
Be ready to shoot anywhere! Kit includes shoulder pad with built in rosettes, rail mounts, integrated tripod quick lock release and top handle.
3. Blackmagic URSA VLock Battery Plate
VLock compatible battery plate for attaching third party batteries to URSA cameras.
4. Blackmagic URSA Mini Mic Mount
Add a shock and vibration isolated professional microphone mount to your URSA Broadcast camera!